G'day auction sellers! Just dropping in to excitedly post the links to four new auction templates I've whipped up while relieving some frustration with some older template designs I had hoped to upload instead by now.

So here is a preview of my first quick and very simple offering: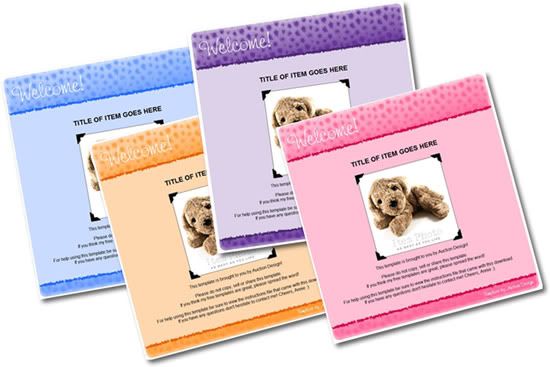 They are very simple, nothing too fancy as far as features, but look nice and neat, and are really easy to set up too. No crazy stuff to distract your potential buyer's attention away from your item, or slow your listing pages down which is really annoying when you just want to check out an item.
These auction templates are very general use, add or change whatever you like, if you like! They are suitable for use in any place where HTML is accepted (including emails). Also, there's no need to worry about all the template images etc. they are hosted for you. :)
If you know how, please feel free to upload the images to your own Photo hosting service, or web site (just in case the files, server, my account etc. disappear for any reason in the future). Just be sure to update the HTML code with your own URL's.
As this post was unplanned and kinda spontaneous, please note that in the templates it says to refer to the included instructions if you need help using the templates. Well it lies because I haven't actually created any official file yet - but I'm about to tell you what you need to do, so please read on!
Okay, simply follow these steps to template usage success:
1. Firstly,
to view each template
in a new Tab or Window, click one of the following links. There are four colours to choose from, so you can download one or all individually:
To save the file to your computer
, go to the Tab or window with the open template, click
"File > Save page as"
(in browser toolbar). Alternatively, you can also right click each link above, and select "
Save target/link as
".
3.
To view the code so you can Copy/Paste into your listing editor
(either online or in listing software such as Express Lister, Turbo Lister etc), simply locate the file on your computer where you saved it, right click the file and select "Open With..." and select your text editor (most likely Notepad). You can also copy the code directly from your browser by right-clicking on the page where you are viewing the template (ie click above link to view the template), and selecting "
View Source
" or "
View Page Source
".
4.
Select all
the code
(
Edit > Select All)
or
(ctrl+a
)
5.
Copy
the code
(
Edit > Copy)
or (
ctrl+c
)
6.
Paste the code:
Make sure you are in
HTML editing view
in the listing editor, then
Paste
into your Description section (
Edit > Paste
) or (
ctrl+v
). Once you've done this, choose the usual (WYSIWYG) design view in the listing editor and you should see the template before you.
7.
Change / create your description details
ie Title and description, add your terms if you like etc. For the photo, you can either delete it (click it and delete in the editor), or, replace and add your own photos if you upload them to your own image host (eg Photobucket etc).
Well I hope it's all made sense. If not, please leave a comment below and I'll reply ASAP.
Please leave a comment to let me know what you think of these first templates, and to post your auction link to show off your new furry-filled listing! I'd love to see them in action. :)